"A TRULY TRANSFORMATIONAL SKINCARE PRODUCT. WE'RE OBSESSED." - HUDA BEAUTY
"I CAN'T LIVE WITHOUT THIS" - JENNA ELFMAN
BEST FACIAL OIL FOR ACNE PRONE SKIN: NEW BEAUTY AWARD WINNER 2022
BEST FACIAL OIL: BEAUTY SHORTLIST AWARD WINNER 2020
Our carefully selected Vegan and Organic ingredients include a concentrated blend of 15 of nature's most Phyto-Potent botanical oils delivered to your skin. Our ingredients are rich in Antioxidants, Vitamins A, C and E, as well as Omega 3, 6 and 9 Essential Fatty Acids, that are renowned for providing a balanced, healthy, youthful glow.
Formulated to soften, moisturize and restore, our highest quality botanicals make this face oil perfect for all skin types including sensitive, combination, acne-prone, mature, and dehydrated skin. Its restorative properties are designed to reduce skin inflammation and fight free radicals that cause collagen damage. The Bedouin Elixir Facial Oil is also beautifully balancing and fights sebum build up, making it work wonders for those with acne-prone skin.
DIRECTIONS Warm 1-3 drops of Bedouin Elixir Facial Oil into your hands and lightly press into clean skin, or after applying serums. Massage in an upwards motion for extra daily circulation. For best results use morning and night. 
INGREDIENTS Camellia Oil*, Apricot Kernel Oil*, Grape Seed Oil*, Jojoba Oil*, Avocado Oil*, Argan Oil*, Prickly Pear Seed Oil*, Hemp Seed Oil*, Neem Oil *, Blue Tansy Essential Oil*, Sea Buckthorn Fruit Oil*, Lavender Essential Oil**, Rose Essential Oil**, Neroli Essential Oil**, Jasmine Essential Oil**, Ylang Ylang Essential Oil*

* Organic, ** Non-GMO.
Our Award Winning formula is made with beautifully non-toxic, organic, vegan and cruelty free ingredients.
Our Bedouin Elixir is hand-blended in small batches with carefully sourced natural and organic ingredients that can vary slightly in color depending on their harvest seasons. Due to the nature of this process, you might see slight color variations from batch to batch however, you can expect the same results. 
Customer Reviews
My skin glows like never before!
First of all, it smells absolutely delicious! A little goes a long way and it's the perfect consistency, not sticky or slimy but rich and just the right amount of oiliness. Anyways, it feels like such a dream on my skin and makes my skin glow, keeps it hydrated and my skin tone is more even! Thank you, Omayma! Xoxo
06/27/2022
Denny Z.

United States
Transformative
This combo of divine oils has helped turn my skin into a radiantly glowing feat. My partner is obsessed w the smell of it and uses it as well. I've noticed my acne scars becoming far less noticeable and it helps make skin look more awake and alive! Love Omayma and always recommending to my friends
06/20/2022
Calida R.

United States
My every day!
Omayma facial oil is a part of my daily ritual! I love the way my skin feels and looks. The oil is light yet my face feels well moisturized. Thanks for such a great product. Calida Rawles
06/06/2022
Rahul G.

United States
THE BEST
I've had the pleasure of using Omayma Skin for just over a month now. It's been an absolute pleasure to add it to my routine. As a male with darker skin, a lot of my sunspots and blemishes feel more visible. However, since I started using Omayma Skin, I've found a lot of sunspots, blemishes, and overall skin health has changed drastically. My skin feels brighter with a glow, and my sunspots have lessened drastically. My face feels soft, supple, and healthy. I've found a product I'll be using for a lifetime! Which is definitely an accomplishment, as I rarely add anything new to my routine in fear of breakouts, but this vegan, all natural formula is absolutely wonderful for my skin. 10/10, will be using forever.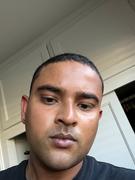 05/16/2022
Adriana P.

United States
Soooo good!
I feel so luxurious using this product and the smell is amazing and it makes my face look so vibrant. Definitely has been a game changer in the appearance of my skin since using it.